WOOCOMMERCE INTEGRATION
DOWNLOAD THE WOOCOMMERCE PLUGIN
First before using either method ensure that you have the WooCommerce plugin installed on WordPress.
We try to insure that all images and instructions are accurate and up to date, but WordPress and WooCommerce update their software frequently (and we update ours too). If you notice an error or need help, please contact us.
HOW TO INSTALL A PLUG-IN
Please first read the complete instructions before following the directions to install and activate your new WooCommerce plugin/extension:
Download the plugin .zip file to your computer.
Go to your WordPress account dashboard page.
Click Plugins > Add New to upload.
Click Upload Plugin at the top.
Click Choose file and select the .zip file you downloaded in step 1.
Click Install Now.
Click Activate Plugin.
CONFIGURE THE MOJOPAY WOOCOMMERCE PLUGIN
Click WooCommerce > Settings.
Click Payments tab.
Click Manage.
Click the Enable MojoPay checkbox.
Ensure MojoPay Sandbox is NOT checked unless you are going to test offline.
Enter your MojoPay secure API token.
Click Save changes when you are done.
After successfully completing the installation, your customers will be able to complete their check-out via your new MojoPay option.

DOWNLOAD THE WOO COMMERCE SUBSCRIPTION PLUG IN
How to use WooCommerce Subscriptions with Mojo Pay
Mojo Pay is now fully integrated with Woo Commerce Subscriptions.
First you will need to purchase and install the Woo Commerce Subscription add on into your Word Press Website.
Second you will need to install the standard woo commerce plugin. It is the same Plugin as the Woo Commerce shopping cart.
And that's it! you are done and ready to go!
Below are a few of the features you will gain by using Woo Commerce Subscription.
Capture Residual Revenue with Recurring Payments
With WooCommerce Subscriptions, you can create and manage products with recurring payments — payments that will give you residual revenue you can track and count on.
WooCommerce Subscriptions allows you to introduce a variety of subscriptions for physical or virtual products and services. Create product-of-the-month clubs, weekly service subscriptions or even yearly software billing packages. Add sign-up fees, offer free trials, or set expiration periods.
A subscription-based model will allow you to capture more residual revenue — and all you have to do is ship the orders.
Free Trials & Sign-Up Fees
Charge an initial amount to account for customer setup costs, or allow customers to try before they buy, by adding sign-up fees and free trials to any subscription product.
Subscription Management

Store owners get full-featured subscription management via the WooCommerce > Edit Subscription administration screen. You can suspend or cancel a subscription, change the trial expiration, add items, shipping, fees or taxes to the subscription or modify the recurring total for future payments.
Synchronized Payments
If you only want ship on certain days of the month, or align all customers to the same annual membership term, you can with WooCommerce Subscriptions' renewal synchronization feature. You can even prorate the first payment of a synchronized subscription purchase.
Flexible Product Options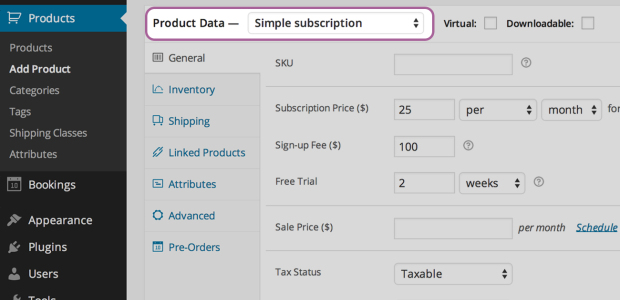 When creating a subscription product, you can make the product downloadable, virtual or physical, charge renewal payments weekly, monthly or annually, limit the product to one-per-customer and even charge shipping only on the initial order.
Subscription Coupons

Offer customers a discount on their monthly payments or just the sign-up fee. Subscriptions includes both recurring discount coupons and sign-up fee coupons.
Variable Subscriptions

Create variable subscription products and allow your customers to choose a subscription that suits their needs. You can even allow customers to choose their own billing schedule.
Subscriber Account Management

Your customers can also manage their own subscriptions. With the My Account > View Subscription page, subscribers can suspend or cancel a subscription, change the shipping address or payment method for future renewals and upgrade or downgrade their subscription.
Upgrades/Downgrades

Allow customers to upgrade, downgrade or cross-grade between different subscription products. With flexible proration options for the recurring amount, sign-up fee and length, you can also customize the costs of switching to a new subscription product to suit the needs of your store.
Multiple Subscriptions